Flat Elastic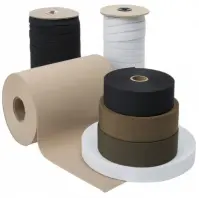 Elastic Cord & Webbing stocks a huge inventory of flat elastic materials. We offer braided elastic, knitted elastic, and woven elastic for all industries and applications, with widths from 1/8" to 14" available to meet your unique needs. (Available widths vary by material type.)
Flat Elastic for All Applications
Flat elastic is a flexible, stretchable fabric that is used in everything from apparel to heavy duty industrial applications. Our inventory includes fold over elastic (knitted elastic style F56LS) and grip elastic (knitted elastic styles GW50 and GW61). For webbing elastic applications, our woven elastic is generally the strongest and most durable.

Pricing, working life, and material width requirements are the key factors one should consider when choosing the right flat elastic webbing for their needs. Overall quality is based on life expectancy, durability, and stretch retention.
Flat Elastic Construction
All our elastic is constructed from a series of rubber threads that are wrapped in a secondary fiber, such as cotton, polyester, nylon, or a blend of those materials. Latex rubber is commonly used in braided elastic and woven elastic; latex-free rubber is a common option in knitted flat elastic.

The combination of fiber content and construction plays the largest role in how much stretch the material provides, and helps determine which flat elastic material is best for the application at hand.
Comparing Flat Elastic Materials
Knitted Elastic
Price: Lowest
Life expectancy: short to medium
Quality: good
Widths: from 1/4" to 14"
Braided Elastic
Price: Moderate
Life expectancy: long
Quality: Better
Widths: from 1/8" to 1"
Woven Elastic
Price: Highest
Life expectancy: Long
Quality: Best
Widths: from 3/4" to 12"
Flat Elastic Fiber Material
Cotton Elastic
Degrades at: 482°F (250°C)
Strength: good
UV resistance: low
Mildew resistance: low
Abrasion resistance: medium
Acid Resistance: Poor
Stretch: 100%
Texture: Soft
Nylon Elastic
Melting point: 450°F (232°C)
Strength: best
UV resistance: good
Mildew resistance: excellent
Abrasion resistance: excellent
Acid resistance: poor
Stretch: 25% at break strength
Texture: firm
Polyester Elastic
Melting point: 480°F (249°C)
Strength: best
UV Resistance: good
Mildew resistance: excellent
Abrasion resistance: excellent
Acid resistance: good
Stretch: 100%
Texture: firm