Braided Elastic & Non Elastic Cord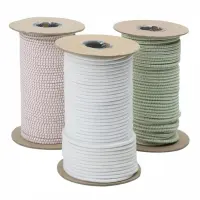 Elastic Cord & Webbing is a producer of braided elastic cord and braided non elastic cord for the industrial market and for commercial, garment and military applications with 1" being the widest diameter manufactured of braided elastic cord.
BRAIDED ELASTIC CORD
Braided elastic cord has rubber strands that are wrapped or braided with a variety or combination of yarns creating either a cotton cord, nylon cord, polyester cord, or polypropylene cord. The thinnest of these elastic cords are often used in the print industry as menu cords or in the POP industry. The larger diameter elastic cords are often used as bungee cords or shock cords – whether that be for sport or for a strapping application to hold goods down or together. The thicker the cord, the more industrial its purpose.
BRAIDED NON ELASTIC CORD
Our non elastic cords are used for many different utilitarian purposes. Some not so glamorous purposes such as draw cords and lobster traps, but other times they can add an aesthetic value to things such as lanyards and shopping bag handles. All of our non elastic cords are made of either a nylon cord, polyester cord or cotton cord.
For more information on Braided Elastic or any of our other great products, call us today or request a quote to get your project started.