Home
»
Flat Elastic
»
Knitted Elastic
Knitted Elastic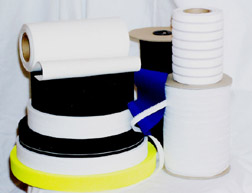 Knitted Elastic
It can be confusing when choosing the right type of flat elastic. Knitted elastic material is not going to narrow when it is stretched mostly because it does not have as much rubber or fiber in the product as a braided elastic or woven elastic. This also contributes to the cost effectiveness of knitted elastic. Of all available flat elastics, knitted elastic can be produced the quickest which translates to the shortest production lead times for manufacturing of large quantities. Because of its widespread use in the apparel industry and medical field (needing latex free elastic), white elastic, optical white elastic, black elastic and beige elastics are the most commonly manufactured colors of knitted elastic. All of our bulk knitted elastic come as either polyester elastic or a polyester/nylon blend elastic which makes it the most inexpensive and most versatile of our flat elastic material.
For more information on knitted elastic or any of our other great products, call us today or request a quote to get your project started.
| | |
| --- | --- |
| Displaying 1 to 20 (of 113 products) | Result Pages: 1 |
KNITTED ELASTIC APPLICATIONS
Our tension, or stretch percentage of knitted elastic, ranges from 90% to 160%. Our widths range from 1/8" to 22". That means there is a wide variety of applications suitable for our knitted elastics including: waistbands, suspenders, goggle straps, sporting goods clothing including hunting jackets, orthopedics, lifting belts, binoculars, mining safety respirators.